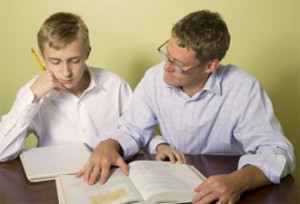 The new school year is well underway and students are experiencing their fair share of assignments, quizzes/tests, and projects. The school days are passing quickly and it's not too early to start thinking about progress reports and midterms. We've asked two of our top tutors about their best tips for helping students achieve academic success.
Students can experience a variety of challenges in a given subject. Emily, an OCT teacher with years of classroom and tutoring experience, says that each student learns at their own pace and suggests that they break their material into manageable chunks and use study styles which work best for them. Chris, our resident math wizard and seasoned tutor, believes that proper note taking, effective time management and study habits can have a big impact on a student's progress.
Personalized tutoring can help provide the extra support students need from ongoing homework help to exam preparation. If you are looking for a tutor, Emily suggests that it is important to find someone who has compassion and a good understanding of a student's strengths and needs. Chris adds that trust and communication along with subject knowledge are the most important factors to consider.
Many families prefer the convenience of one-on-one tutoring in the comfort of their home. It's important to work with a reputable company which carefully screens and selects tutors based on their expertise in a subject area and experience in working with students. A positive tutor/student relationship can provide the inspiration for learning and other benefits beyond the classroom.