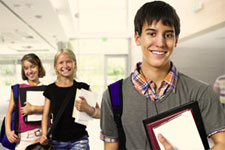 It's back-to-school time once again. Whether your child is going to school for the first time, changing schools, or simply returning, the following tips can ease the transition from those carefree summer days to a structured fall routine.
 Reset the clock
About a week before school starts, adjust sleep schedules to reflect when your children sleep and awaken during the school year. Introduce regular meal and snack times that coincide with a typical school day.
Set up a homework/study space
Create a quiet space for students to study and work on projects and assignments. For younger children, choose an area like the kitchen or dining room, which allows for adult supervision. Even older children benefit from some monitoring, though they may prefer the quiet of a bedroom. Wherever your big kid chooses to work, be sure to limit techno distractions.
 Decide on a time
With the onslaught of after-school activities and teams, families should establish their own consistent homework time. It's better to start earlier rather than later, and stick to your schedule to promote good study habits. While you're at it, arrange an alternate time slot for TV, cell phones, and gaming.
 Use an agenda/planner
Many schools encourage the use of an agenda planner. It helps students organize their responsibilities, due dates and keep track of important events. Agendas are also a helpful tool for parent/teacher communications.
 Keep a family calendar
Whether you are computer-savvy, or an old-fashioned planner, a family calendar is a great way to manage everyone's activities in one central place. Track important events like open houses, parent-teacher interviews, recitals, sporting events, appointments and holidays to avoid conflicts and enjoy your time together.
By following these tips, students (and parents!) will create good habits and comfortably settle into their new routines, positioning everyone for a successful school year.